Everyone says that managers must be committed for Lean to succeed.  To test this theory, in 2005, I did a survey of leaders in over 50 successful "Lean" shops in the United States.
The overwhelming response was that commitment is not enough. Direct involvement is required.
How does a manager stay involved with Lean, and promote employee participation as well? Certainly you can begin with a traditional formula of setting goals, identifying measures, and creating standards. Also by providing resources, especially time. A strong vision is needed.
But in my 32 years of performing Lean I have found that putting yourself where the action is – on the front line – is the best way to make a difference.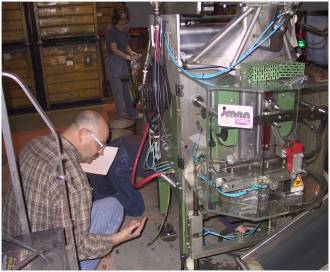 Ponder this. About 20 years ago the new plant manager of Jacobs Vehicle Systems (maker of Jake Brake) relocated his office to the center of the shop. It had windows on all four sides. He could see everything, and everyone could see him.  It was impossible for him not to be involved.
Or consider the plant manager of Hedstrom Corporation in Bedford, PA. When I trained operators in Autonomous Maintenance he not only came to the classroom segment, he got out and helped clean the machines. And then he scheduled a Gemba Walk every Monday morning to ensure that the training took hold.  His thinking was:
Data is good but facts are better.
The Gemba Walk is simple. On a regular basis a manager takes a 20 to 30 minute walk looking at specific issues. More importantly, the manager interacts with the process owners, asks questions, coaches then.
The key to a Gemba Walk is that you are at the source, interacting with process owners, and that you are looking for improvement opportunities.
Combined with coaching practices, often called "Coaching Kata", the Gemba Walk may prove to be one of the most powerful leadership tools in your arsenal. Why not try it? See what happens. You have nothing to lose.
If you are interested in knowing more about Gemba Walks and Coaching Kata, Tom Fabrizio will be teaching a Lean Daily Management Course at PSU, CEPE on December 5 and again on May 6, 2015. Click here for more info about Lean Practitioner courses at PSU, CEPE.
Tom Fabrizio, Instructor, M.Ed., JD