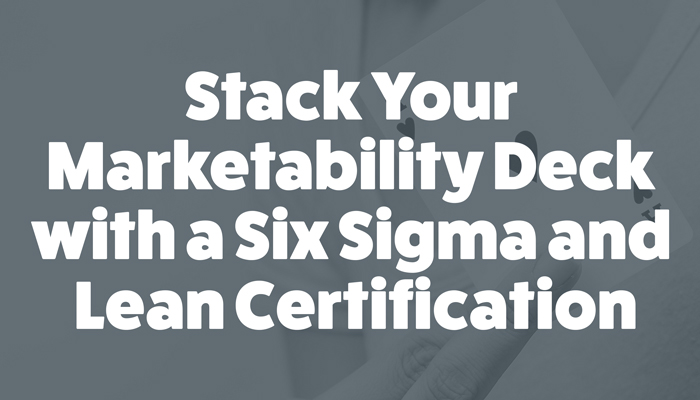 Put the Marketability Odds in Your Favor with Six Sigma & Lean Certifications
By now, most of us realize that Six Sigma and Lean are used in many industries, not just manufacturing. But where exactly can a certification in these methodologies take you? How can it best be used to stack the cards in your favor? Can you really increase your marketability with a Six Sigma and Lean Certification?
In this blog post, you'll find three critical ways a Six Sigma and Lean certification molds you into a highly sought-after potential employee for the cream of the crop positions in your industry.

Fit the Culture of Your Industry's Leaders
If you're looking to improve your career opportunities, here's a brief list of industries that have adopted Six Sigma and Lean:
Pharmaceuticals

Retail

Transportation and Logistics

Automotives

Continuous Process Plants

Textiles

Information Technology

Aerospace

Electronic Goods
Obtaining a certification in Six Sigma and Lean can certainly open doors in your industry. However, there's an underlying benefit to learning the principles of these methodologies that might not be readily apparent. When you understand the best practices of your industry and its leading companies, you become a cultural fit.
While "cultural fit" may sound like another piece of corporate jargon, it actually can have a real effect on your success in a new workplace. It's been said that 89% of hiring failures stem from poor cultural fits. By focusing on understanding the core values of your industry, you'll be able to mold yourself into an attractive and successful hire.
Ready to achieve operational excellence? Then, sign up for NWCPE's Six Sigma Certification Program.

Become a Change Agent
Of course, the benefits of a Six Sigma and Lean certification go beyond an attractive resume. It's the working knowledge of best practices that truly enhances your marketability. Employees who know how to boost revenue, cut down costs, optimize operations, and create an efficient workplace are valuable to just about any company!
Resistance from employees is one of the most difficult aspects for new adopters of Six Sigma to overcome. Being averse to change is human nature, and many employers simply don't have the time to devote to get everyone on board. It takes a change agent to make that happen.
Six Sigma Black Belts are trained to be change agents, ready to execute processes and reduce resistance. Perhaps one of the most notable traits of Six Sigma Black Belts is the ability to encourage and train those employees who must implement the targeted changes to operations.
While any organization is sure to encounter a few bumps in the road when making a change, it's the Six Sigma Black Belts who smooth out those bumps with ease. Don't miss this essential workshop, Intro to Statistical Methods, designed for Six Sigma Certification aspirants and change agents.  

Demonstrate Your Commitment to Best Practices
It would be dishonest to imply that earning a Six Sigma and Lean certification doesn't take time and effort. Learning the methodologies and how to best apply them takes commitment on your part. However, it's that level of commitment that increases your marketability and adds another card to your stack.
Employers want employees who are engaged and ready to do more than what's expected. Talented employees (managers in particular) give companies a major edge on the competition. In fact, Gallup found that companies that bring in more talented managers and double their rate of employee engagement achieve 147% higher earnings than their competitors on average.

Your certification will certainly help you stand out from the rest, highlighting your commitment to your industry, its best practices, and your own professional growth. You'll discover even more insights into how to apply process improvement approaches to diverse processes with our Statistical Process Control Certification.